My little project this last week end.
I need to add a few rf433 oregon temperature sensors to be linked to my rfxcom + jeedom domotic box.
Unfortunately, these sensors (oregon THGR122N) are about 25€ (or 15€ using a cresta clone), not including shiping costs.
Therefore I decided to do a cheap one myself using :
-an arduino pro mini (2.50€)
-a fs1000a transmitter (1.50€)
-a ds18b20 (1€)
The whole thing uses less than 2ma when sleeping, and max 20ma when it reads temperature from the ds18b20.
Here comes the sketch rf433_sendOOK.
Note that that I am re using code from connectingstuff.net to send oregon 2.1 compatible packets.
Possible evolution would be to replace the arduino pro mini by an ATTINY85.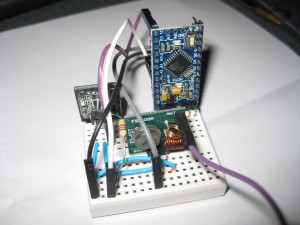 Here comes the wiring.